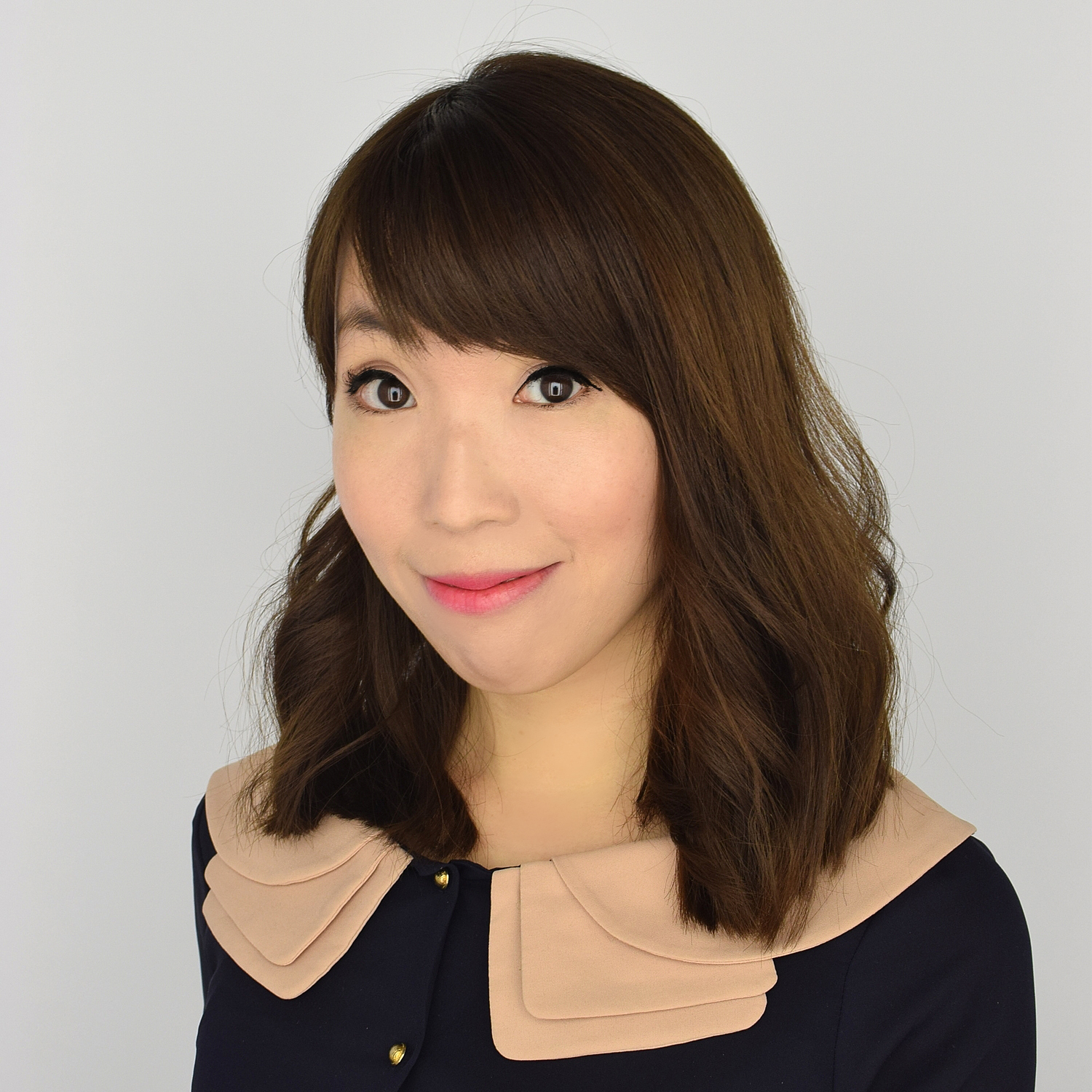 Ever Dating
A location-based mobile app concept that encourages real-time and
authentic interaction.
About the Project
Ever is a location-based mobile app concept that encourages real time and authentic interaction.
Challenge:
The challenge with most online dating apps in the market focus more on the online, in-app experience rather than encourage a genuine, real-life human interaction. Initial communications are long and done through the apps online. And as such, people spent a lot of time trying to make a superficial online connection with somebody whom they've never met. This process makes them feel defeated, discouraged, and ultimately give up on using online dating apps entirely.
My role:
Product strategy

User research and analysis

Persona creation

Wireframes

Branding

UI Design and Prototyping

Usability Testing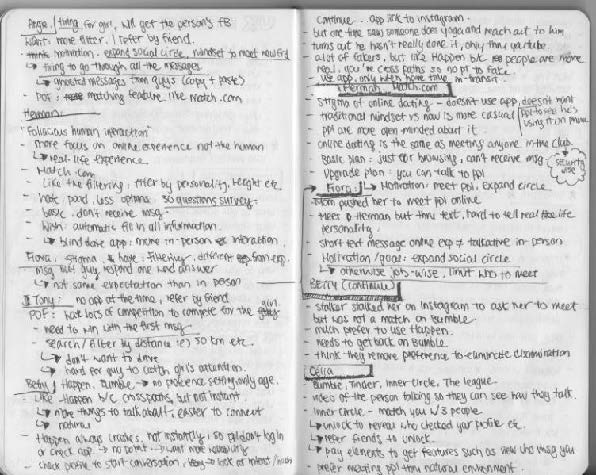 User Interviews
At the discovery phase of my project, I conducted user interviews in person and remotely in order to get a better understanding of the problem.
Interview Questions:
How do you meet new people to date?

Do you use online dating app to meet people? If yes, which app do you use?

If no, what's stopping you from using an app? Gives as much details as possible

What would be your motivation to use online dating apps?

Where and when do you typically go on and use the app?

Tell me the last time you used an online dating app as detailed as possible, such as the process, how did you match with the person, communication with the person, how long it took before meeting up etc.

How would you describe your typical online dating experience through an app?

What is your biggest frustration with using an online dating app? Explain in details.

Is there a particular app you prefer to use more? Why?

What motivates you to use the app?

If you have a magic wand, what will you change differently?
User Insights:
Tiring to go through all the text messages, survey questions, setting up profile
Hard to win with the first message
Get judged by the first impression on their profiles
Filter by distance and ethnicity
Enjoyed Happen app - because crosspaths with each other, more things to talk about and more natural to connect
Some apps have no notifications/instant replies, people don't log into app to see them.
Don't go on the dating apps often, only go on the app when in transit, down time or have nothing to do
Majority of the motivation is to expand social circle and meet new people
Hard to tell real-life personality based on text messages conversation
A lot of fakers who pretend to be someone else online
Conversations take long, lead to nowhere
Hard to initiate conversations, hard to meet people as you get older
More focus on app experience and not the basic human real-life experience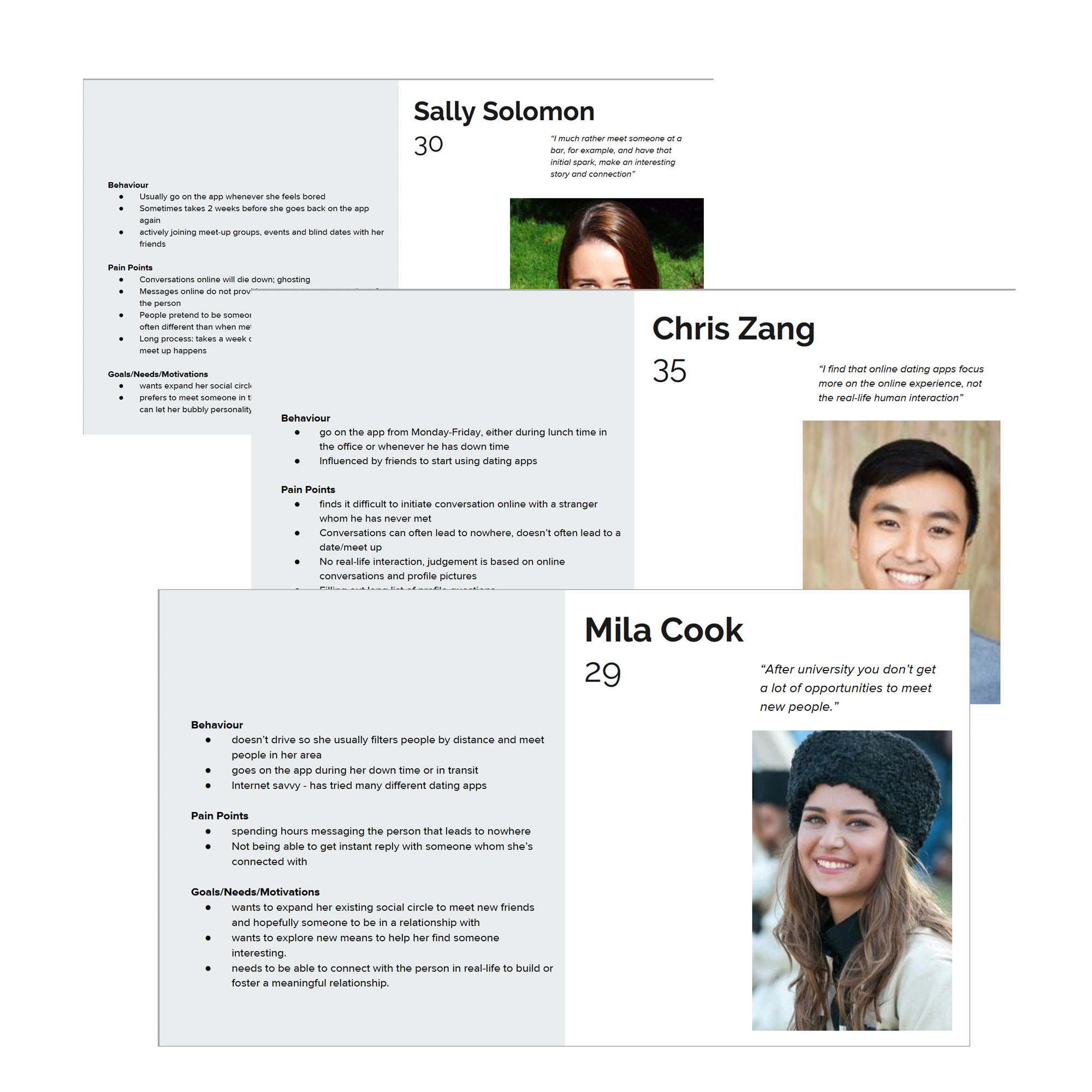 Personas
Based on the insights from my user research, I set up three personas. I referred to them throughout the entire product development process.
Each persona is created with a scenario that identified a realistic goal the user might have when working with the app



The information about each persona focused on its pain points, behaviours and goals.
By focusing on the interactional context of each persona helped me to understand the physical, environmental and emotional state of the user at the moment of the interaction. This process has significantly influenced the development of key functionalities and design decisions.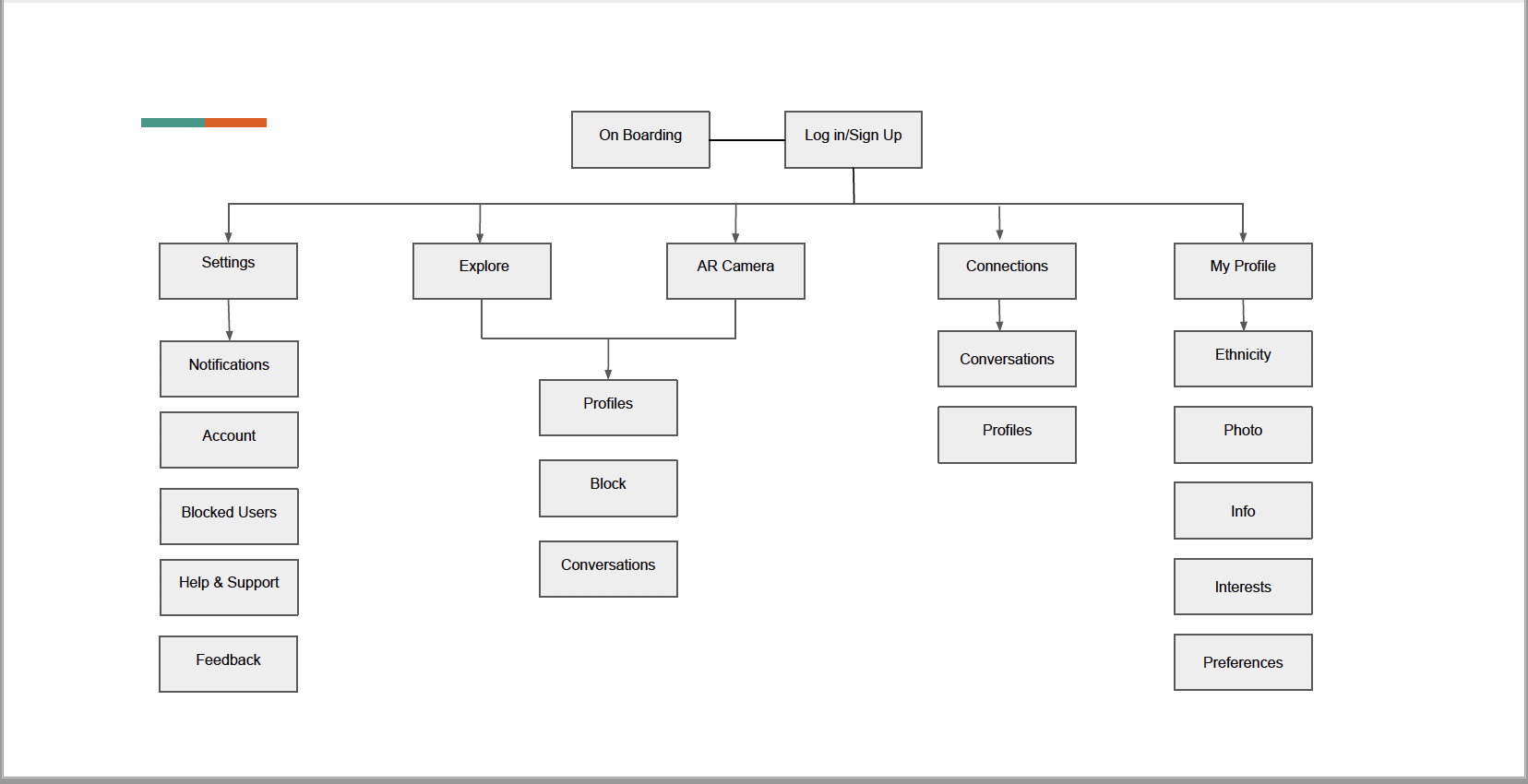 User Flows
I've created a user flow diagram to map two main steps of the user interaction for the app: "As a user, I want to find someone to meet"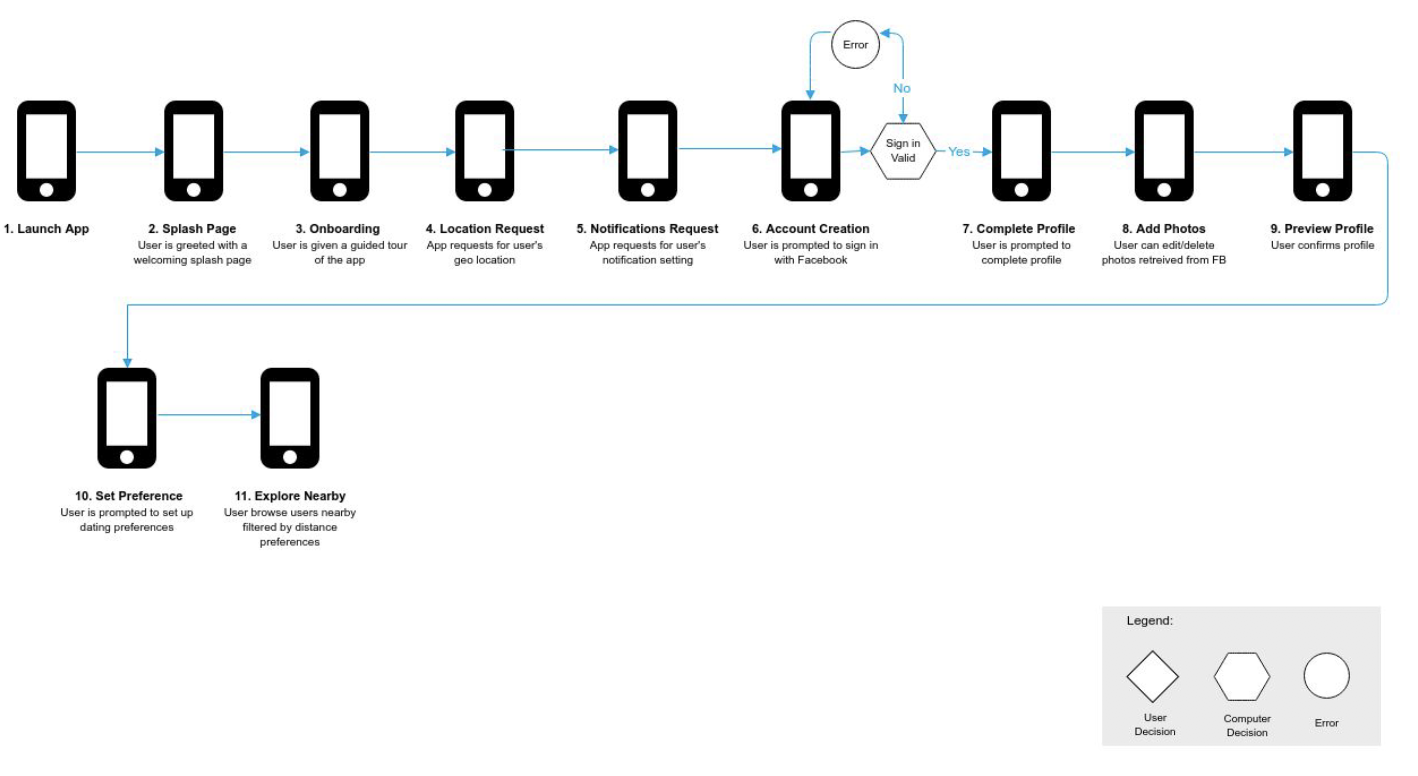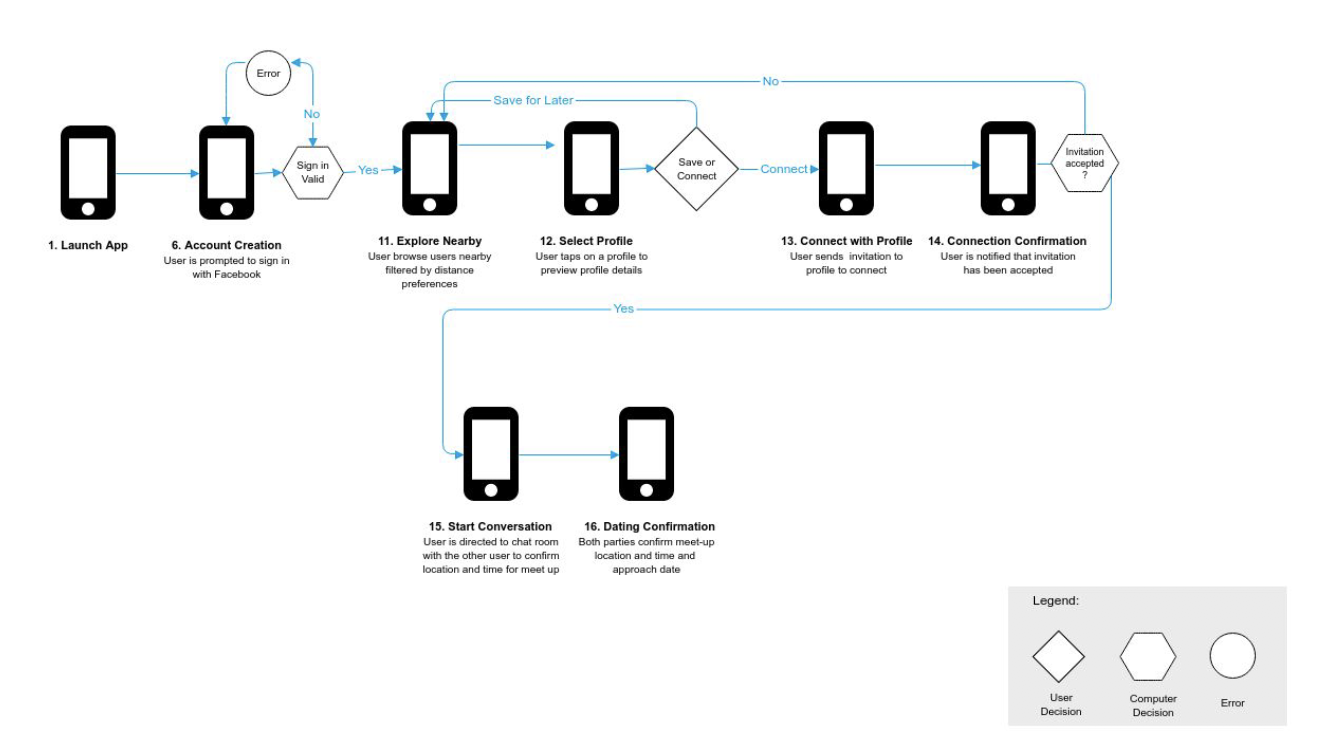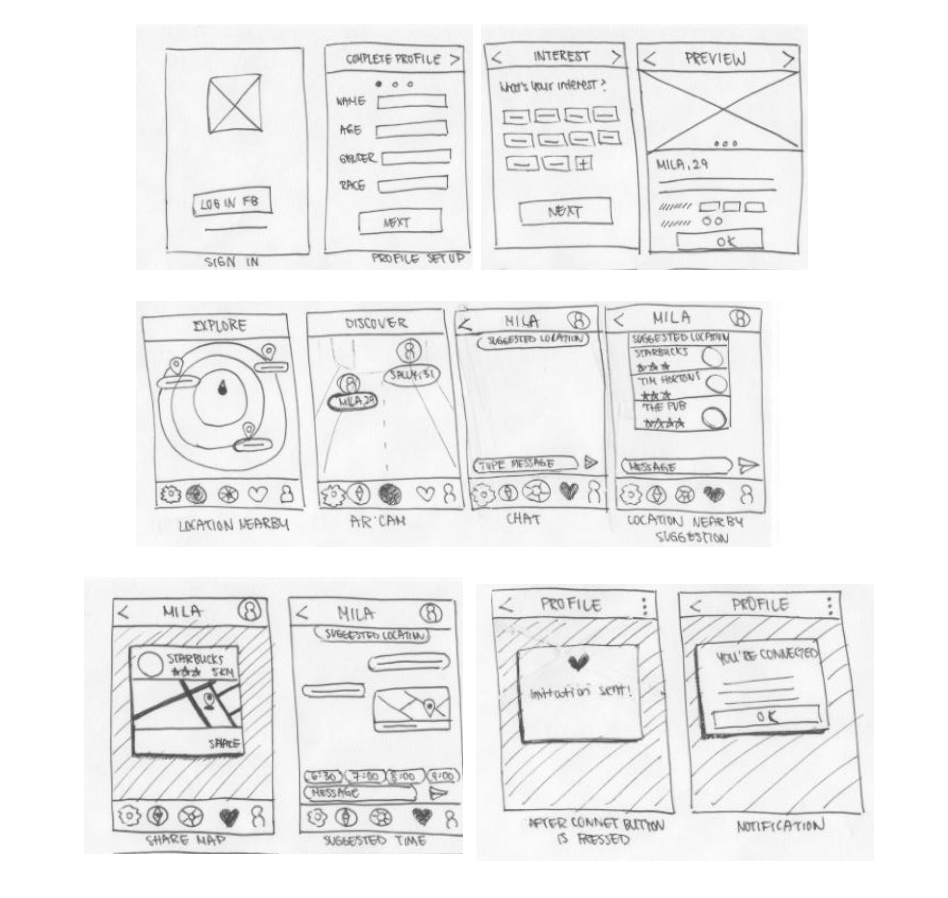 Sketches
I usually start the design process with low fidelity sketches. This is the way I iterate through many design options quickly. I sketched each iteration and added elements and screens that were necessary to reach users' goals and to quickly see which ideas worked best. I then put the sketches into InVision to build an interactive prototype and tested some user stories with 3 different individuals.
Findings:
Users found the label "Race" to be confusing and not inclusive.

Users found that drop down option to select age is not convenient. They don't like scrolling to find their age.
Design Iterations:
Changed label, "Race" to "Ethnicity"

Age dropdown box changed to a slider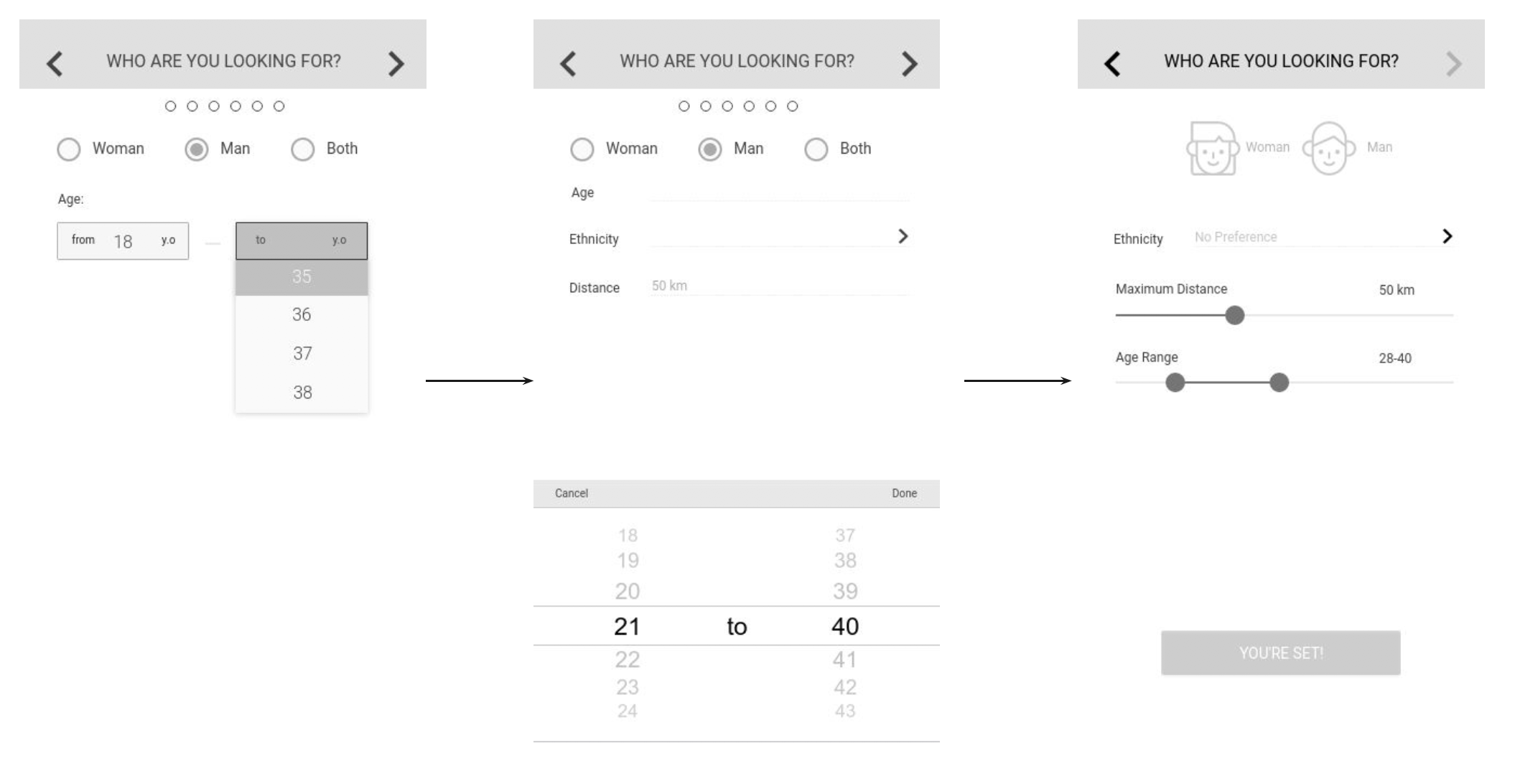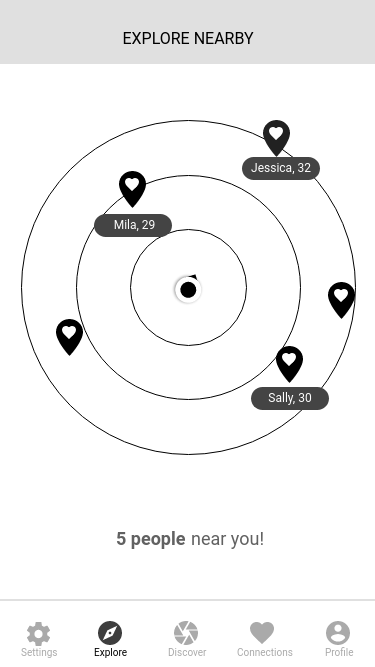 Prototyping
I turned my revised sketches into a black and white interactive prototype done with Sketch. I defined UI elements, design patterns and visual hierarchy. I tested the prototype in-person and remotely.

Findings:
Users wanted to have more options than woman and man

Users don't want to fill all the profile right away

Users want to speed up the profile process

Users feel uncomfortable sharing the exact location with people they do not know

Design Solutions:
Users are not limited to selecting one gender

Users can proceed without filling information

Users connected with Facebook can upload pictures directly to the app

Explore Nearby only show users within the preset radar and proximity without revealing exact location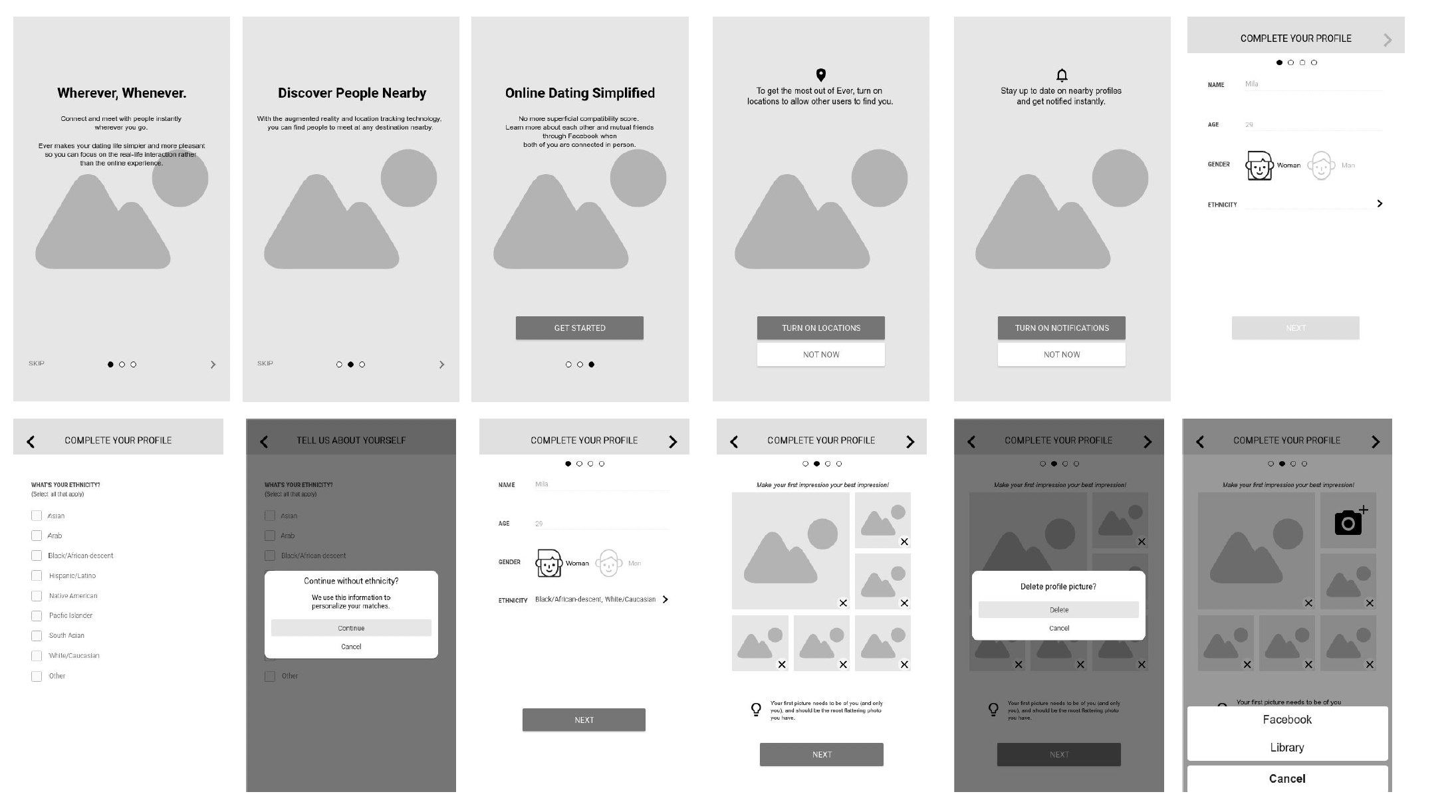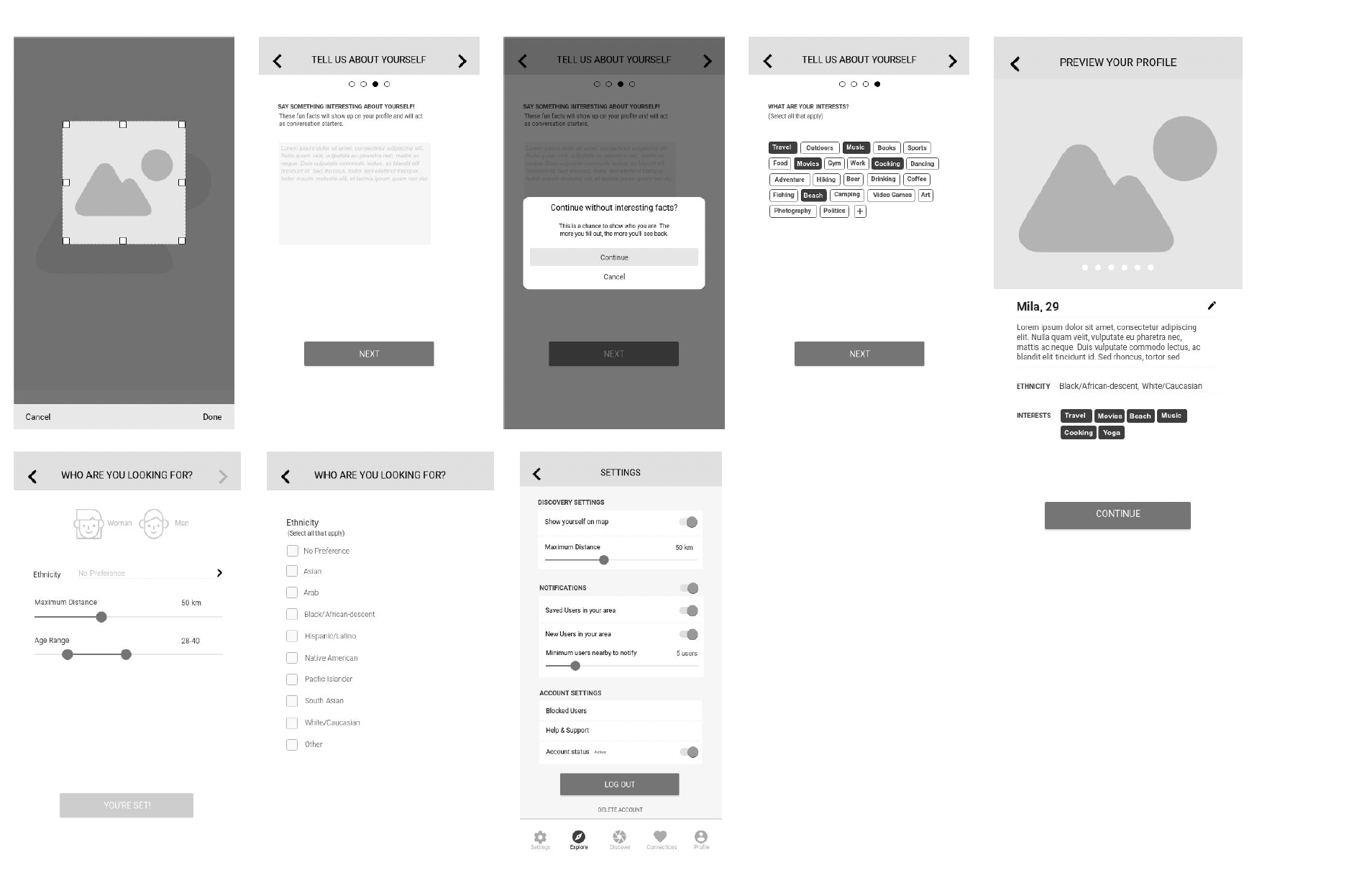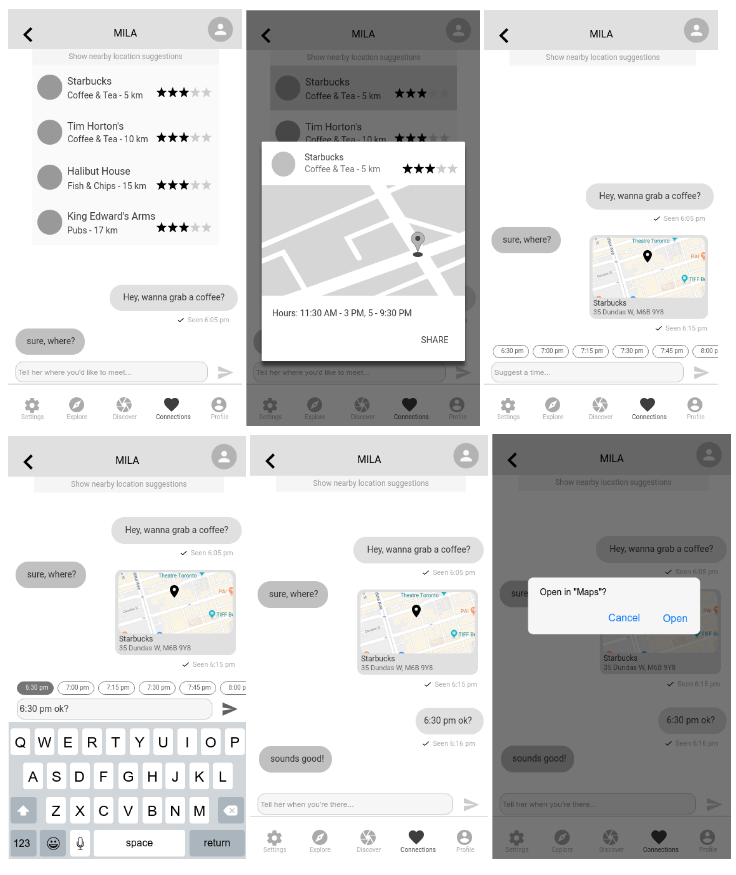 Smart Design Features
Given that a lot of users had expressed that online communications often take very long and can often lead to nowhere, Ever chat box is designed to ease the communication process so that users can focus on real-time interaction instead. The chat feature suggests simple questions to begin the first interaction with another user. After that, the chat will base on your current location and suggest a nearby location for the user to meet up. A map can be shared instantly to the other user. The chat will then suggest a list of time for the user to choose from. This automatic feature makes communications less complicated, less time-consuming and more carefree. Both users can spend more time knowing each other in person.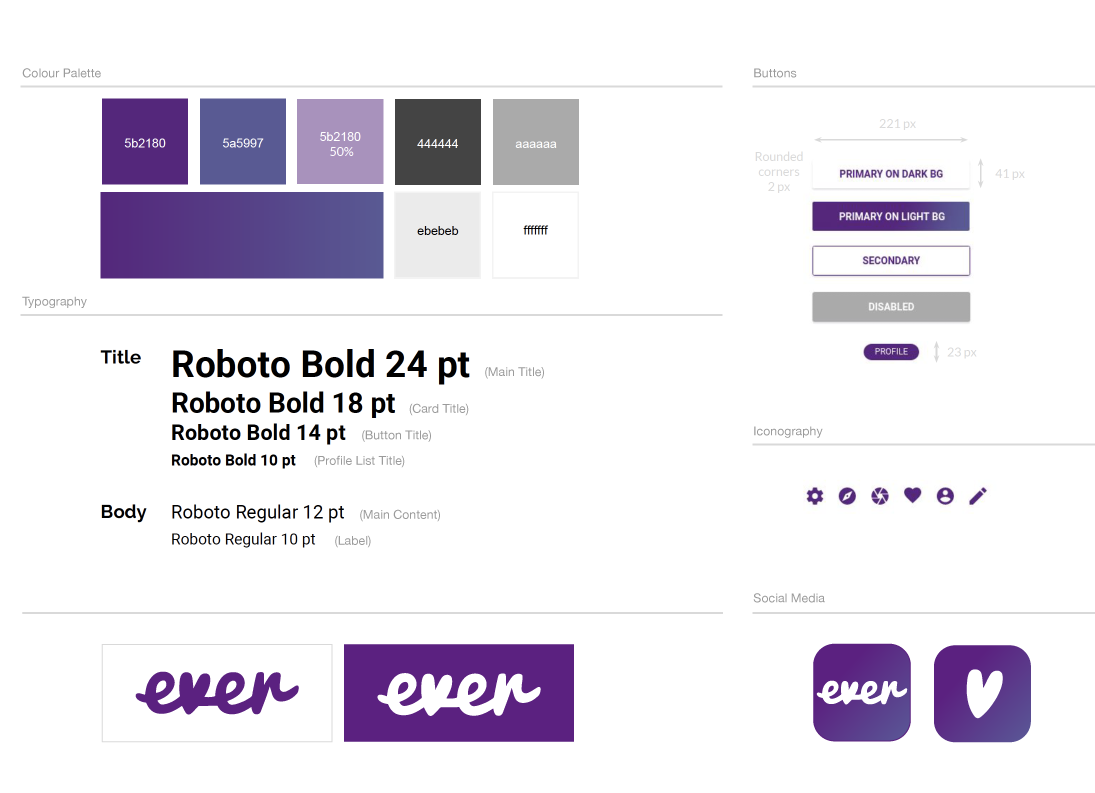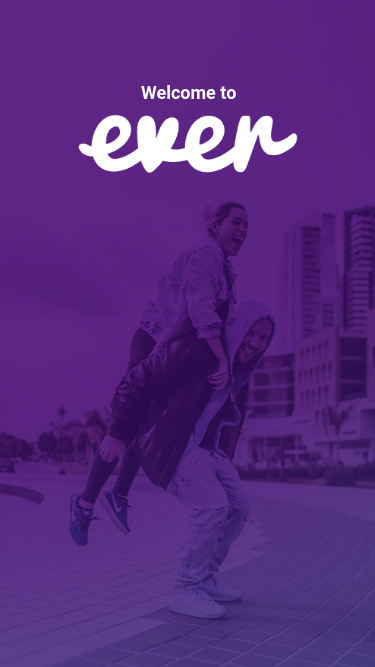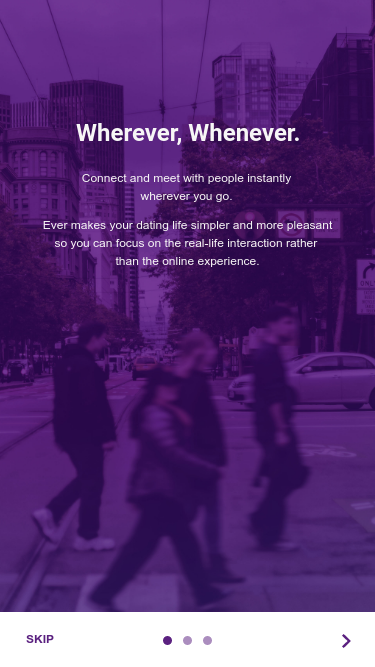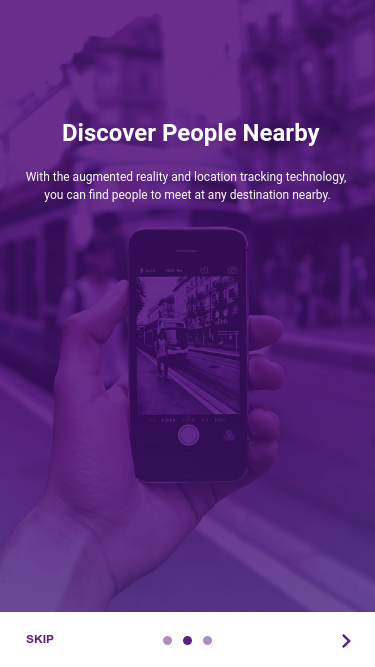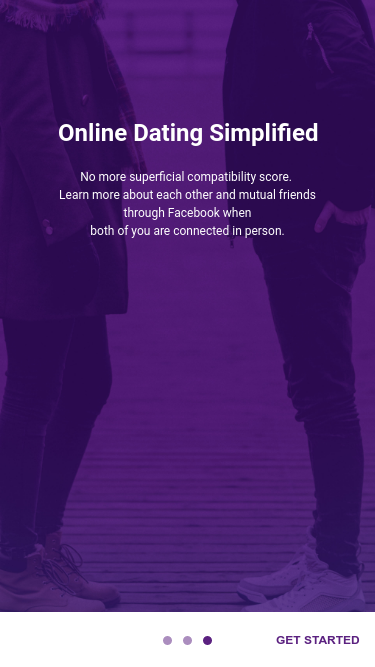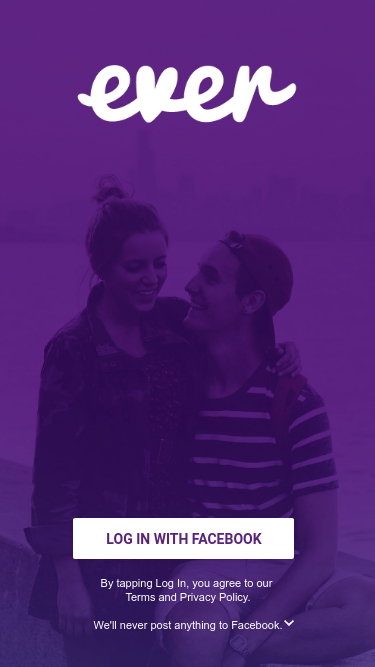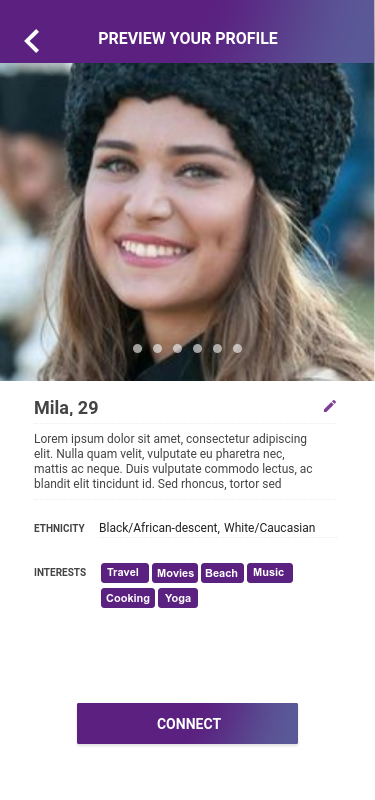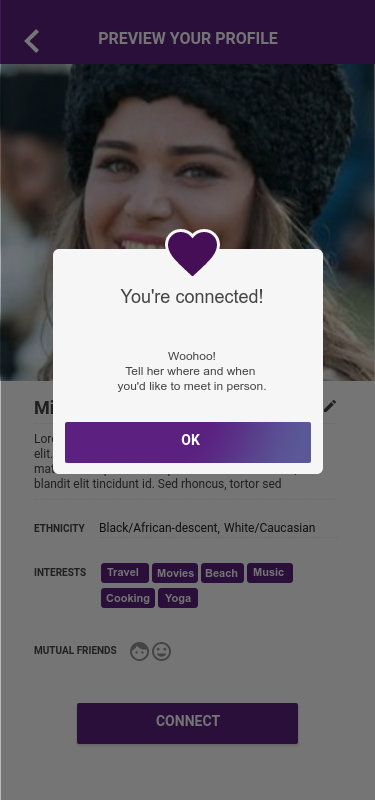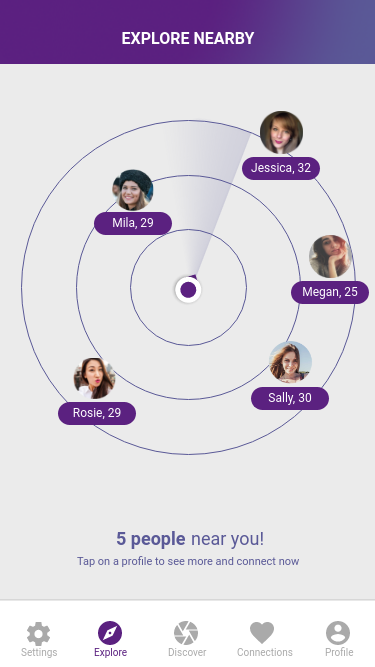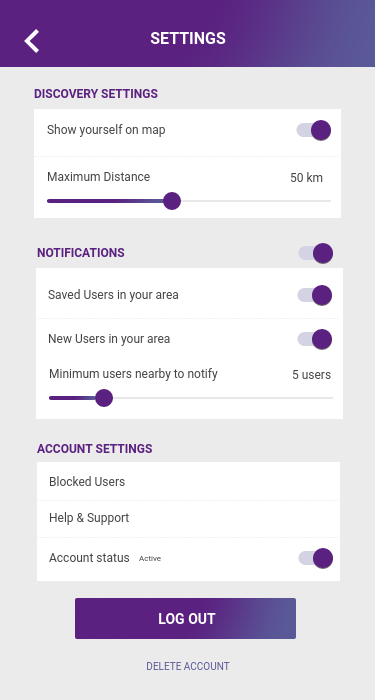 Final Thoughts
After a few more iterations, I designed the final screens with Sketch. I conducted A/B testings during the process to define the design pattern, elements and colours. My aim was a clean, modern look that helps users fulfill their goals quickly. I focused on the colours scheme to help transmit trust and reliability and kept visual elements looking modern and fresh.